Get control of your
blood pressure
All heart health related information at a glance

Medication and blood pressure management reminders

Personal activity plans to improve your blood pressure


Download on the App Store
More information about Cora Health for iPad and Android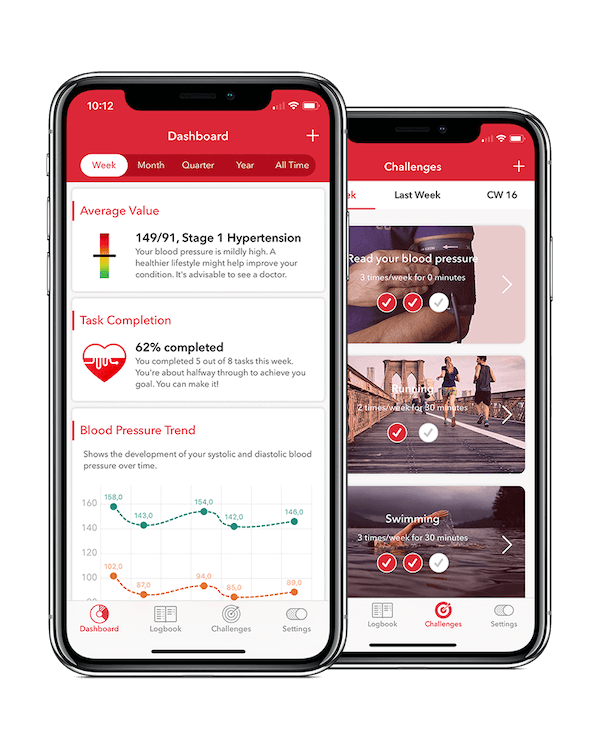 » Most innovative, national solution in Health & Well-Being «

World Summit Awards 2017

» One of the most innovative startups of the European health industry «

Health Innovation Landscape Europe 2019, The Next Web X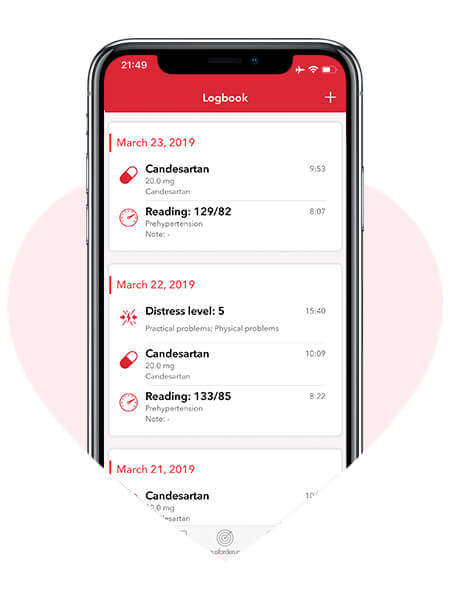 1. Enter readings
Import blood pressure data from Apple Health or enter it manually in the app.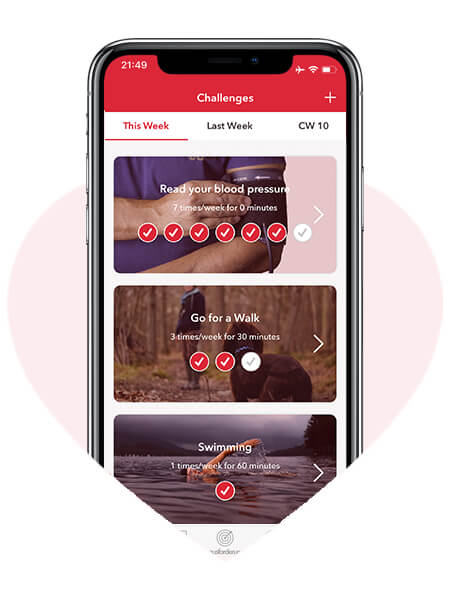 2. Master challenges
Create your personal activity plan and complete your weekly tasks.
3. Improve blood pressure
Observe how your values improve thanks to your new, healthy lifestyle.
More than 50,000 people in Europe trust Cora Health
"I have high blood pressure and this is fantastic for listing all the readings and the stages of your blood pressure."

User in the UK
"Cora Health is really great and has given me a good overview of how my blood pressure is developing."

User in Germany
"I finally no longer forget about my medication. The actionable advice provided by the app is very helpful."

User in Austria


Average Rating of the Cora Health app: 4.5 Stars
A healthy heart can prolong your life
Studies showed that treatment for high blood pressure leads to a reduction in heart attacks (20-25% on average), strokes (35-40%) and heart failure (more than 50%). Improving your lifestyle can significantly reduce the risk of complications and makes you happier and more vital. Exercising two to five times a week can keep blood vessels healthy and prevent high blood pressure and heart disease.
Got more questions?
Hypertension is the medical condition of a permanently elevated blood pressure. The condition is the biggest risk factor for cardiovascular disease. About a quarter of the world's population has high blood pressure. In more than 4 out of 5 cases, the cause of the condition lies in a unhealthy lifestyle.

Why you should know your blood pressure

Healthy are not only the one's who are not ill, but the one's who are actively seeking prevention from getting sick. That's why it's important to keep an eye on our circulation, our heart rate, and our blood pressure.

High blood pressure is always an indication that your body is not feeling well. Your heart must constantly deliver peak performance if your blood pressure is too high. The consequences of high blood pressure can be immense: people with high blood pressure have a increased risk of a stroke, blindness, heart attack, heart failure or circulatory disorders.

Why you should use a blood pressure app like Cora Health

The blood pressure app Cora Health helps you to keep an eye on your blood pressure. With Cora Health you can easily document your blood pressure data, your medication intake and your habits. Easy-to-understand explanations, graphical overviews and up-to-date information on your blood pressure will also help you to self-assess your treatment process.

In addition, it's essential to take countermeasures against your condition to reduce the risk of secondary diseases. The blood pressure app Cora Health will not help you to fight the symptoms of hypertension, but will help you take on the causes of the condition through lasting lifestyle changes.

How to read blood pressure

Your blood pressure is measured on the wrist or upper arm with a blood pressure monitor. As of today, it is not possible to measure blood pressure accurately solely with an iPhone app. Cora Health helps you capture and document these results. You can easily import all data if your blood pressure monitor supports Apple Health.

Home-monitoring is an important part of high blood pressure therapy.

Regular documentation helps you to get a better picture of your heart health and enables you to live healthier and happier. Likewise, your doctor can benefit from the data in your blood pressure app: Cora Health helps doctor's to better assess the development of your condition.

Recent posts from our health guide